Here in 2020, with so many people impacted by a loss of income through the COVID-19 pandemic, managing your cash flow (aka budgeting) is more important than ever!
Whether you are new to budgeting or just need to "tighten" your current budget, understanding the "four walls" of budgeting can help. Each of the four areas covered here are required expenses for most people. Once you move beyond these areas many of the additional expenses are discretionary. And if you need to cut back on spending – the discretionary items are the ones to review.
Here are those four key areas – what they include and why they are important…
Budgeting isn't always easy. The process can be simple and understood by anyone, but implementing and sticking with it can be hard. This is especially true if the numbers are tight in your budget. There are four categories – the "walls" of your budget structure – that should always have the top priority. Make sure you have these covered before allocating amounts to anything else.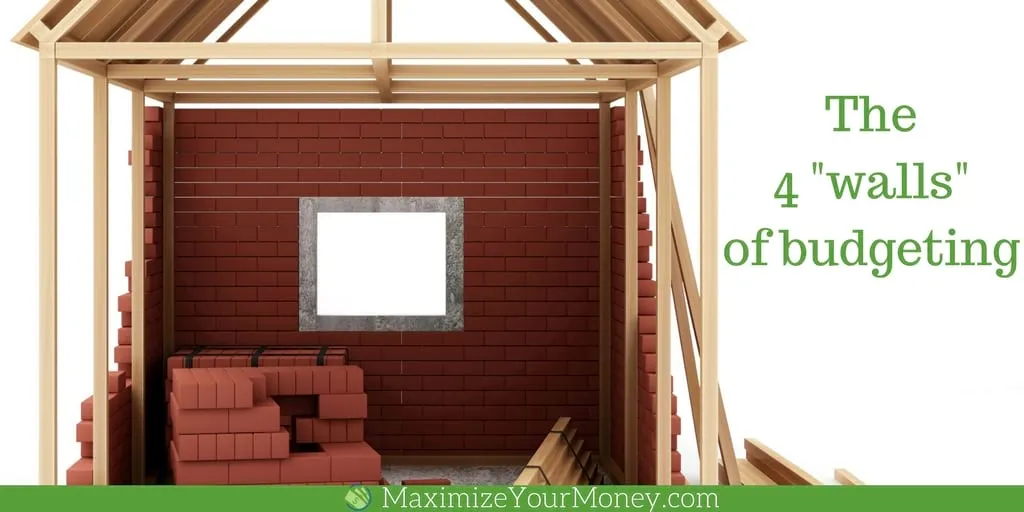 Why bother budgeting?
Almost half of Americans cannot handle an unexpected $400 expense. Almost 80% wouldn't be able to deal with a $1,000 unexpected expense without going into debt.
While there are true emergencies that are unexpected, a lot of "unexpected expenses" can actually be planned for. That's what a budget is for.
A budget allows you to tell your money where to go instead of wondering where it went. – Paraphrased from Dave Ramsey
Almost 90% of people with a plan for their finances – the cornerstone of which is a budget – state that they are making progress toward their financial goals.
Budgeting is the base of good financial practices.
The four "walls" of a solid budget
During our financial coach training and certification process back in 2016, we got to spend some with Chris Hogan (great guy!). One of the things he talked about was what he refers to as the Four Walls of Budgeting.
These four categories should be covered first in any budget. If money comes up short at the end of the budget planning process, something other than these four areas should get cut.
So if you are just starting to build out your budget, or you have a budget but are experiencing some challenges with it, move these four areas to the top. Top priority. Top of the budget form. You need to pay these before anything else.
#1 Housing Expenses
You need a safe place for you and your family to live in. Mortgage and rent payments are often the largest item in a family's budget. Because of this, some people think: "If I skip this one big item I can pay off several other bills, isn't that better?" No – it isn't! Don't do it.
It's hard to focus on goals and priorities when you're worried about your house. You don't want to get evicted or foreclosed upon.
Karla and I support the local homeless shelter. As part of that support, we sometimes hold classes on financial topics to help people get back on their feet. We've seen firsthand situations and heard of a lot of stories, of what it is like to lose a house. It's a situation to avoid if there are any reasonable ways to do so.
Don't forget the utilities
Beyond the mortgage or rent payment, you need to cover your utilities. Sure, perhaps you can live a while without electricity or water, but not long. And it won't take much time at all before it starts to impact other areas of life – like your children, or your job situation and more.
Having a safe, fairly comfortable, secure housing environment is important and needs to be the first budgeting wall to establish.
Tip: If you own your house you might be able to refinance to save some money on the monthly payment and/or be able to pay off the mortgage faster. It's definitely worth considering.
#2 Grocery Expenses
You can't not-eat. You need food (and water) to survive. This is an area you cannot neglect. It's literally a life-or-death type of expense and you need to include it in your budget.
Just like having a safe place to live is important, you need to make sure you and your family are nourished.
Sure, food can be expensive. But it doesn't have to be.
There are people who spend several hundred dollars per person per month on food, but there are also people who spend as little as $50/person per month. If money is tight this is often an area where you can save a good bit. You might need to live on a healthy rice and beans diet for a while, but that's okay to make the budget numbers work out.
Tip: A few good ways to lower your grocery bill are: 1) Buy generic. Rarely can we tell the difference but the price is frequently 20% or more! 2) Plan meals around sales. See what is on sale at your favorite store then consider working the mean plan around sale items. 3) Use coupons or apps. Everyone has heard of coupons, but there are also apps to help save money.